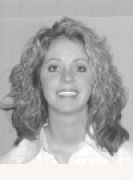 Awards
IUPUI Athletics Hall of Fame (2005)
About Cory Pepperworth-Rainbolt
Cory Pepperworth-Rainbolt is just the second former volleyball player to be inducted into the Hall of Fame. She was a four-year letterwinner that was a member of IUPUI's first-ever Division I team in 1998. She was named Second Team All-Conference by the Mid-Con in her only year in the league (1998).
During her final year, she also led IUPUI to victory in the Wright State Tournament where she was named Tournament MVP. She was also named to the All-Tournament Team in the Liberty Invitational in 1997. In addition, she was named team MVP in 1997 and 1998. She also played one season with the women's basketball and softball teams.
Cory's name is prominent throughout the IUPUI volleyball record book. She is one of only three players in school history to accumulate 1,000 kills and 1,000 digs in their career. She graduated as IUPUI's career leader in digs (1,377) and still holds the record for games played (503). She is also among IUPUI's career leaders in kills, attack attempts, hitting percentage, service aces, digs per game average and matches played.
Cory also appears among the IUPUI single-match leaders for kills, hitting percentage, service aces, digs and blocks, while also having one of the best hitting percentages in school history.
Cory also excelled academically while she was at IUPUI. She was selected Academic All-Conference by the Mid-Con in her only year of eligibility, while also being named to the Academic Advisor's List at IUPUI three times. In 1997, she was awarded the Michael A. Carroll Scholarship, given annually to an IUPUI student-athlete who has demonstrated excellence in the classroom and a commitment to community service. Upon graduation, she was awarded the jaguars Letter Club Scholastic Achievement Award.
Rainbolt and her husband Jason reside in Greenwood, Indiana, with their son Cole, where they are active in the Brookville Road Community Church. For the over 4-1/2 years she has worked as Managing Partner for the family owned PCA Wireless.
Rainbolt has been active in the local March of Dimes, having served as both the Vice Chair and Chair of the Central Division. In 2002, she was named the March of Dimes Central Division Volunteer of the Year. Since her graduation, she has also remained active in IUPUI Athletics, having served on the board of the Jaguars Letter Club for several years, including a one-year term as its President.
She graduated from the Indiana Kelley School of Business at IUPUI in 1999 with a Bachelor of Science degree.
She says, "It is an honor to still be involved with IUPUI athletics and see all the success of the athletic programs today. I thank IUPUI for providing me with a chance to develop both in my education and with my life skills. The IUPUI family has been very important in my becoming a productive member of society."