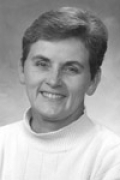 Awards
IUPUI Athletics Hall of Fame (1995)
About Trudy Bernath
Trudy Bernath, a former IUPUI softball player who began her collegiate career at the age of 32, was a national Association of Intercollegiate Athletics All-District player in 1983 and 1984, and a second team NAIA All-American in 1983. In addition, Bernath was a two-time AIAW All-State player and All-Regional selection during the first two years of her career, prior to IUPUI's joining the NAIA.
Bernath holds all of IUPUI's career pitching records. In addition, she holds season records for winning percentage, strikeouts, shutouts, complete games, is tied for most wins and is second in earned run average.
From 1984 to 1994, she served as an assistant softball coach for Ben Davis High School. She currently volunteers much of her time to youth softball programs and serves as deputy commissioner of the Indianapolis Metro Association, an affiliate of the Amateur Softball Association. In 1992, she was inducted into the ASA Hall of Fame, and in 1994, competed as a member of the national championship 35-and-over team.
Nick Kellum, former IUPUI softball coach, characterizes Bernath as "perhaps the most dominant pitcher ever to take the mound for our program."