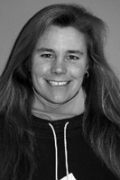 Awards
IUPUI Athletics Hall of Fame (2009)
About Wendy Castor
Wendy Castor becomes the tenth inductee from the softball program and was a two-time NAIA All-American outfielder for Head Coach Nick Kellum during her three-year career.
As a junior, Castor set a school record with 67 runs scored and batted .406 with 15 doubles. She finished her career ranked among IUPUI's all-time leaders in hits (202), at-bats (584), runs scored (162), doubles (32) and total bases (261). She was widely known as one of the top defensive outfielders throughout her collegiate career as served as the leadoff batter for Kellum's strong teams of the early nineties.
A native of Carmel, Ind., Castor batted .346 for her career and helped IUPUI to a 152-39 record and three NAIA National Tournament appearances. She later earned an invitation to try out for the 1991 U.S. Pan American Softball Team.
Castor received her B.S. in Physical Education and planned a career in firefighting before an accident left her unable to meet eligibility requirements. She now works for Lemcke Landscaping in Indianapolis.