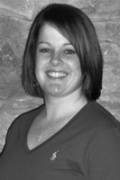 Awards
IUPUI Athletics Hall of Fame (2010)
About Michelle Cunningham Sorrell
Michelle (Cunningham) Sorrell was a four-time All Mid-Continent Conference performer during her collegiate career, earning three First Team honors for the Jaguars. She closed her collegiate career as the program's all-time leader in singles wins (74) and winning percentage (.718). Personally, she collected 73 wins in doubles play, ranking second all-time with a .716 winning percentage.
Her best season was in 2003-04 when she went 18-2, playing primarily at the No. 3 spot in the lineup. Her .900 winning percentage that season remains the second-best in school history. Her 21 singles wins the following season playing at the No. 2 spot are tied for the second-most in school history.
The Sellersburg, Ind.-native helped the Jags to back-to-back NCAA Tournament berths in 2003 and 2004. IUPUI was 26-4 in the Mid-Con and 57-26 overall during Cunningham's four-year career.