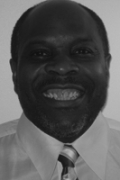 Awards
IUPUI Athletics Hall of Fame (2010)
About Kim King
Kim King was one of the top guards in the early years of the IUPUI basketball program, accumulating 1,447 points and 260 assists during his four-year career. His 19.3 scoring average during the 1978-79 season remains the highest ever by an IUPUI freshman while his career point total is fifth all-time. At the time of his graduation, King was the program's all-time leading scorer.
His 13.5 career scoring average is the 15th highest in school history and his assist total ranks 12th all-time. Despite playing for three different head coaches, King helped lead the then-Metros to the program's first-ever winning season in 1980-81 as a junior.
The Muncie, Ind.-native hit 49.5 percent from the field and 81.3 percent from the foul line and was known as one of the most prolific scorers in the program's early history.