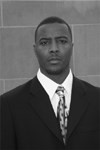 Awards
IUPUI Athletics Hall of Fame (2004)
About Carlos Knox
Carlos Knox finished his career as the most prolific men's basketball player in IUPUI history. His name is etched in the record books more than that of any other player at IUPUI. He holds all the major scoring records, including career points (2,556), single-season points (927), single-game points (51), single-season scoring average (32.0) and career scoring average (30.1). Though best known for his scoring ability, Knox excelled at all facets of the game. He also holds IUPUI career records for steals (204), 3-pointers attempted (499), free throws made (684) and free throws attempted (821).
Knox ranks in the top 10 for career assists (297) and free throw percentage (.833). During his career, he scored better than one-fourth of his points from the foul line. He is the only player in IUPUI history to hit more than 200 free throws in a single season, a feat he accomplished three times in his playing career.
Knox earned national recognition early at IUPUI. He was named Honorable Mention NAIA All-American as a sophomore. As a junior he led all NCAA Division II players in scoring and was named a First Team All-American by the National Association of Coaches, College Sports Information Directors of America, and Division II Bulletin. A knee injury in his junior year slowed him down, but he came back stronger than ever as a senior. His final season, Knox was named Division II Bulletin Player of the Year, NCAA Division II Player of the Year, First Team Great Lakes Region, and a First Team All-American. On the evening of his final collegiate game, Knox's No. 34 jersey was retired. He is one of only two IUPUI student-athletes and the only men's basketball player to have his number so honored.
Following his IUPUI career, Knox played professionally, including a preseason stint with the Indiana Pacers. He played more than six years overseas in Germany and Venezuela before returning to IUPUI during the 2001-02 season as an assistant coach for the men's team. In the fall of 2002, he returned to Germany to resume his professional playing career. He was an Assistant Coach/Player Development for the Indiana Fever 2008, 2010-17 where he played a pivotal part in the rehabilitation training for Tamika Catchings and Katie Douglas. He was also part of the staff that won the 2012 WNBA Championship and part of the 2015 WNBA Finals. Currently Knox is an Assistant Coach for University of North Texas.
Carlos resides in Dallas Texas with his wife Michelle and their children.
Knox says, "IUPUI has meant the world to me. It has helped me obtain two very important goals in my life: to get a quality education, and to play basketball professionally. I had a chance to establish lifelong friendships with great teammates and an outstanding coaching staff. It has truly been an honor to be a part of this wonderful University."