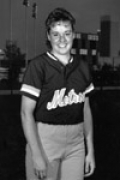 Awards
IUPUI Athletics Hall of Fame (1998)
About Karen Knox
In three years on the mound for the IUPUI softball team, Karen Knox amassed accomplishments only her academic career could match.
She was named National Association of Intercollegiate Athletics All-American honorable mention and All-District in 1989 and 1990. She twice was the NAIA Player of the Week. From 1987-90, Knox posted IUPUI's second-best career earned-run average (0.95) and third-highest number of career strike-outs (240).
Knox's pitching numbers also place her in the top five in Metros softball for season ERA, season and career wins, season strike-outs and career win-loss percentage.
Her athletic career was cut short in 1990 with her early acceptance into Purdue University School of Veterinary Medicine. Knox received her bachelor's degree from IUPUI and, in 1994, completed veterinary school. She now practices at Lafayette Veterinary Hospital.
"IUPUI not only gave me the high-quality academics I needed to get into veterinary school," Knox says, "but it also allowed me to play softball, the game that I love."