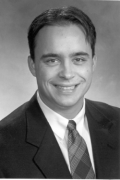 Awards
IUPUI Athletics Hall of Fame (1996)
About Tony Kwiatkowski
Tony Kwiatkowski was the first soccer player inducted into the IUPUI Athletic Hall of Fame. A four-letter winner during the sport's first four seasons, Kwiatkowski helped sustain the fledgling program by recruiting 10 additional soccer players from his own Portage (Ind.) High School and other areas of northwest Indiana.
Kwiatkowski's record for most career assists (22) still stands, and his performance attracted top recruiters to IUPUI. Kwiatkowski was team captain in 1988, 1989, 1990. He earned National Association of Intercollegiate Athletics (NAIA) All-District honors the same years, and was nominated for All-American honors in 1988 and 1990.
Kwiatkowski continues his enthusiastic support of IUPUI soccer by heading the Soccer Alumni committee and helping to arrange the annual alumni gathering.
"IUPUI gave me the opportunity to mature as a student-athlete," he says. "It allowed me to prepare myself for the real world by challenging me to do my best on and off the field." Kwiatkowski is putting his double major in management and industrial relations to use as a sales manager in the beverage industry.