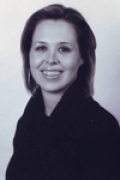 Awards
IUPUI Athletics Hall of Fame (2006)
About Ariane Mongeau
Ariane Mongeau ended her IUPUI swimming career as the greatest female swimmer in school history and, quite possibly, the best female athlete ever to compete for the school. She is the first swimmer from either of the men or women's team to be inducted into the IUPUI Athletics Hall of Fame.
Mongeau was a member of IUPUI's first-ever Division I women's swim team, claiming conference titles in five individual and two relay events. She was named First Team All-Conference twice, while also earning a Second Team nod.
She was voted Mid-Con Newcomer of the Year her sophomore season. In addition, she received the Mel Garland Distinguished Student-Athlete Award, recognizing her as the best female athlete at IUPUI her junior year.
Mongeau, who graduated in 2001 with a Bachelor of Science degree in Occupational Therapy, achieved more success and dominated her sport during her three-year career more than anyone else in school history. Her school record 45 race wins are nearly double anyone else, while her 75 podium finishes are also the most ever in school history.
At the time of her graduation, she was the holder of nine individual and four relay school records. Five of those individual and one relay record still stand today.
Ariane excelled in the classroom as well as in the pool, being named to IUPUI's Academic Advisor's List six times and Academic All-Conference twice. She was also named one of the Top 100 Students at IUPUI her junior and senior years.
Following her senior year, Mongeau received the Jaguars Athletics Club Academic Achievement Award, known as the Dorothy Cheesman Award, recognizing her as the best female athlete academically at IUPUI.
Mongeau works as a Pediatric Occupational Therapist at Cardinal Hill Rehabilitation Hospital in Lexington, Kentucky. She also keeps her hand in swimming, teaching the sport to children with autism and sensory integratin dysfunction.
She says, "IUPUI gave me the opportunity to learn English as a second language and earn a degree in a rewarding profession. It also gave me the chance to participate in a sport I am passionate about in the greatest swimming facility in the country."