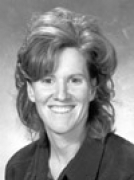 Awards
IUPUI Athletics Hall of Fame (2001)
About Mary Murphy
Mary "Muffy" Murphy's name dots the IUPUI women's basketball record book more than any other person. She is the holder of numerous single game, season and career school records at IUPUI. She holds the school's single game records for most points scored (44), field goal attempts (38) and 3-pt. field goals made (10) and attempted (21). The 1991-92 season saw her set single-season records for 3-pt. field goals made (93) and attempted (236) and free throws made (127). That season also saw her named NAIA Third Team All-American, Kodak All-American and NAIA All-District. She also holds the school record with 209 assists in 1992-93. She is IUPUI's career record holder in 3-pt. field goals made (226), 3-pt. field goals attempted (563), 3-pt. field goal percentage (.401), free throw percentage (.882) and assists (597). In addition, she is the second leading scorer in school history with 1,469 points.
Murphy excelled not only in basketball, but softball as well. She was named Second Team NAIA All-American in 1991 and 1992 and NAIA All-District 21 in 1990, 1991, and 1992. She ranks third in school history with 363 career assists and holds the school's single-season fielding percentage record of .995.
Nick Kellum, Dean of the School of Physical Education and coach of the IUPUI softball team until 1991 says, "Muffy was perhaps best known as a basketball player, but I happen to think that she was an even better softball player...suffice to say, I think Muffy is richly deserving of a place in our Hall of Fame."
Murphy graduated in 1993 with a Bachelor of Science degree in Physical Education. Since 1996 she has taught physical education and health at St. Gabriel School in Indianapolis. She and her husband, Kevin Price, are the parents of two children, Sarah and Kyle.