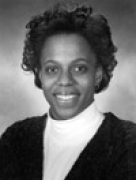 Awards
IUPUI Athletics Hall of Fame (1997)
About Cynthia M. Reese
Cynthia M. Reese's contributions to the IUPUI softball program run the gamut. Not only did she spend four years racking up impressive batting and fielding statistics as a player, but she later returned to her alma mater as softball coach.
Reese is one of only three players at IUPUI to be named to a National Association of Intercollegiate Athletics All-District Team for four years. She was a second-team All-American in 1986 and 1987 and first team in 1988. Her career averages are admirable: .353 for batting (third best in IUPUI history) and .929 for fielding. She also holds career records for hits, doubles and runs batted in and is second in homeruns. IUPUI appeared in the NAIA national tournament each year she played.
From 1992-95, Reese was the coach of the IUPUI softball team. She holds a Bachelor of Science in criminal justice degree from IUPUI and a Master of Business Administration degree from Indiana Wesleyan University. She now works for the Marion County Information Services Agency.
Reese says, "IUPUI has provided me a solid educational and athletic foundation on which I have continued to build throughout my professional career. If it were not for my association with and commitment to IUPUI and its commitment to me, I would not have made it this far."