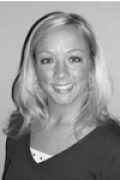 Awards
IUPUI Athletics Hall of Fame (2007)
About Karrie Reising
Karrie Reising was a member of IUPUI's first-ever women's soccer team and scored the program's first-ever goal on September 11, 1998. That was just the tip of the iceberg for a four-year career that saw Reising earn four Team MVP honors and three All Mid-Continent Conference selections for women's soccer.
Reising started all 73 matches of her playing career, while racking up a school record 31 goals, 73 points, and 11 assists. She also holds the school record with 12 game-winning goals and is responsible for two of the four hat tricks in IUPUI history.
As a freshman, Reising scored 13 goals while registering four assists in the Jaguars' first year at the NCAA Division I level. The following season, Reising helped propel the program to its first-ever Mid-Con Tournament berth and picked up All-Tournament Team honors. As a junior, she continued to pile up huge offensive numbers. In her senior year, she put the team ahead of her own personal achievements by agreeing to move to a defensive position, hindering her opportunity to continue her scoring prowess. She did, however, help IUPUI to its third straight post-season berth and earned her second All-Tournament Team honor.
Off the field, Reising was equally spectacular, being named one of IUPUI's Top 100 students in 2001 and 2002. She was a four-year member of the National College Athlete Honor Society and a three-time Academic All-Conference selection. In 2000, Reising also competed as part of the IUPUI women's tennis team and was named to the Indiana Tennis Association Academic All-American Team.
She earned a Bachelor of Science in Business Management degree from the Kelley School of Business at IUPUI in 2002. Since May 2003, she has been employed as a business consultant by the State of Indiana Department of Workforce Development.
Reising says, "It was an honor to play women's soccer at IUPUI. I not only received a great education and got to play a sport that I loved at the collegiate level, but I made many long-lasting friendships and hold many memories of my four years here."