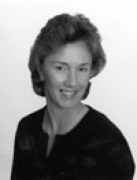 Awards
IUPUI Athletics Hall of Fame (2001)
About Julie Rotramel-Meeks
Julie Rotramel Meeks is IUPUI's career scoring leader for women's basketball with 1,809 points. Her 232 field goals made, 531 field goals attempted and 643 points are single season standards. Rotramel Meeks also is the school's career leader with 686 field goals made and 1,625 field goals attempted. She was twice selected NAIA All-District 21 and was named both Kodak and NAIA Honorable Mention All-American in her senior year. Her four-year class won more games (76) than any class in school history.
During her senior year, she led IUPUI to their second consecutive NAIA District 21 Championship and a berth in the semi-finals of the NAIA national tournament. In her junior year, she was part of a team that set school records for most wins (25), fewest losses (5) and highest winning percentage (.833) in a single-season. In both her junior and senior years, she was among the top ten in the nation in three-point shooting.
Rotramel Meeks and her husband Floyd reside in Carlisle, Indiana. She is in her second season as the Head Girls Basketball Coach at her alma mater, Sullivan High School. She also spent five years as Head Coach at Evansville Central High School and one season as Junior Varsity/Assistant Basketball Coach and Head Softball Coach at Terre Haute North High School.
In 1996 she was a Sullivan County Alumni Association Hall of Fame recipient. Rotramel Meeks graduated from the IU School of Physical Education at IUPUI in 1992 with a Bachelor of Science degree. She was a member of the Phi Epsilon Kappa Physical Education Fraternity all four years.
She says, "IUPUI has helped me achieve success and a career that will last a lifetime. Without the athletic scholarship that IUPUI gave me, I would not have been able to pursue what I love, and that is teaching and coaching."