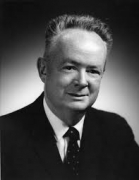 Awards
School of Library and Information Science Distinguished Alumni Award (1986)
About Bernard M. Fry
Bernard Mitchell Fry was the dean emeritus and professor emeritus of the School of Library and Information Science. An Indiana native, he received both bachelor's and master's degrees from Indiana University. Later he received an additional graduate degree from the Catholic University of America.
Fry was Chief Bibliographer of the Legislative Reference Service at the Library of Congress when he was called to military service during World War II. He worked in organizing information flow activities for the Manhattan Project at Los Alamos, New Mexico, and later became Chief Librarian of the Atomic Energy Commission and Director of its Technical Information Service. While at the AEC, he represented the United States in a number of major international conferences and councils. Afterwards he became Deputy Director of the Office of Science Information Services of the National Science Foundation and Director of the Department of Commerce Clearinghouse for Scientific and Technical Information.
In 1967 the School of Education's Division of Library Science was reconstituted as the Graduate Library School, and Fry heeded the call to return to IU, where he served as the school's dean until 1980. During those years the school achieved consistent recognition as one of the top five schools in the field, and its doctoral program produced many of the leading educators and researchers of the present time. The Research Center for Library and Information Science, started by Bernard Fry, produced major studies for the National Science Foundation, the Department of Defense, and the Department of Education. After relinquishing the deanship, he served as a faculty member until his retirement in 1984.
Fry was well known and highly respected on the national and international scene. He served as President of the American Documentation Institute (now American Society for Information Science) and received that organization's Award of Merit as well as its Book of the Year Award. He also served on the governing Council of the American Library Association, and was awarded the James Child Award for contributions in the area of government information. He was a recognized authority in the field of government information and technical reports; he served as editor of two journals in the field.