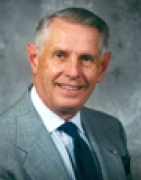 Awards
Kelley School of Business Academy of Alumni Fellows (1986)
About Glen E. Coverdale
Mr. Coverdale is a retired Executive Vice President and member of Metropolitan Insurance Company's Corporate Management Office. In these positions, he was responsible for the real estate and agricultural investments and related activities for more than $24 billion of company investments in mortgage loans and equity positions. Product types included office and residential buildings, hotels, shopping centers, and industrial parks. The Agricultural Investments Department maintained a portfolio of more than $2 billion in farm and ranch mortgages and equities. Mr. Coverdale was also responsible for corporate planning, quality, strategy, and other corporate initiatives.
Mr. Coverdale received his A.B. degree, cum laude, from Franklin College and his MBA degree from Indiana University. He served two years in Korea in the US Army.
After retiring from Metropolitan in 1993, he has remained active in real estate. In 1993/1994 he was instrumental in strengthening the East Coast operation of The Shorenstein Company, a prominent office building owner, developer and manager with headquarters in San Francisco. He now serves as Chairman of the Real Estate Advisory Board of the New York State Teachers' Retirement System.
Some of his notable activities and involvement have included:
Fellow of the Life Office Management Association
Trustee of the Urban Land Institute
Treasurer of the Urban Land Foundation
Certified Real Estate Counselor
Member, Advisory Board, Real Estate Institute of NY University
Chairman, Nominating Committee of the Real Estate Board of NY
Member, Board of Directors of the Realty Foundation of NY
University Fellow of Brandeis University
Member of the Dean's Council, Business School of Indiana University
Member of Board of Directors and Executive Committee of the Greater New York Councils, Boy Scouts of America and President of the Exploring Division
Recipient, Silver Beaver Award Boy Scouts of America
Member, Board of Directors of the Community Preservation Corporation
Member, Board of Trustees, Franklin College, Indiana