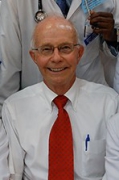 Awards
School of Medicine Glenn W. Irwin, Jr. Distinguished Faculty Award (2007)
About Talmage R. Bosin
Dr. Talmage Bosin is the former Director of the Medical Sciences Program. After growing up in Fond du Lac, Wisconsin, Talmage R. Bosin first came to Indiana University as a student in 1963 with a B.S. in chemistry from Wheaton College. He joined the lab of Ernest Campaigne where he studied the physical chemistry of the sulfur analog of biogenic amines. The sulfur analog of seratonin and its benzo[b]thiophene derivatives were the subject of his doctoral dissertation. With his Ph.D. in hand, Dr. Bosin took off for a warmer climate. He spent two years in Berkeley doing postdoctoral work in chemistry, then returned to Bloomington in 1969 to join the Medical Sciences Program in the Indiana University School of Medicine as an assistant professor of pharmacology and toxicology. He rose to associate professor rank in 1973 and became a full professor in 1978. Dr. Bosin is a member of the American Society for Pharmacology and Experimental Therapeutics and the Society of Toxicology.
Dr. Bosin has always enjoyed traveling, both for research and for personal pleasure. He spent a year in Stockholm (1977 - 78) as a senior international fellow at the Department of Toxicology of the Karolinska Institutet and returned to that department in 1981 as a visiting research scholar. From 1986 to 1987 Tal was a visiting senior research associate in the Department of Psychiatry and Behavioral Sciences at Stanford University in California. Later he became involved with the Indiana University-Kenya Project, a program supporting and encouraging the exchange of faculty and students with our sister medical school at Moi University in Eldoret, Kenya. He made several trips to Kenya to teach aspiring Kenyan medical students in Eldoret, and to work with AIDS orphans and other Kenyans in need of medical assistance. He was instrumental in bringing to Bloomington a number of Kenyan scholars who pursued advanced degrees and research in various labs of the Medical Sciences Program (MSP). In 2007 the partnership was nominated for the Nobel Peace Prize and was just awarded a $60 million grant for AIDS treatment and prevention.
Dr. Bosin became assistant dean and director of MSP in 1989. Under his tutelage the program has overcome enormous challenges and has grown in number of faculty and students as well as grant dollars awarded. Today MSP is well respected on the Bloomington campus and admired within the School of Medicine. Recognized by his many students as an excellent and engaging teacher, Dr. Bosin was voted Professor of the Year in the IU School of Optometry in 1985 - 86. He was honored by the Medical Class of 1986 with the Medical Sciences Program Special Teacher Award. He was chosen by the Medical Class of 1988 as Outstanding Basic Sciences Professor, and he was named by the Medical Class of 1993 as Top Professor in Basic Sciences. To honor his commitment to international education and his efforts to contribute to peaceful cooperation between nations, the Talmage R. Bosin International Study Fund was established in 2005 to help medical and graduate students expand their horizons far beyond Indiana. He was awarded the School of Medicine Glenn W. Irwin Jr. Distinguished Faculty Award in 2007.