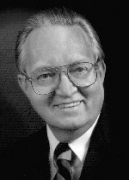 Awards
School of Medicine Distinguished Alumni Award (1984)
About Roy H. Behnke
Roy H. Behnke, MACP, a former College Governor and a well-known educator, died on Nov. 4, 2005. A resident of St. Petersburg, Fla., he was 84 years old.
Dr. Behnke was born in Chicago in 1924 and received his medical degree from the University of Indiana in 1946. After serving in the U.S. Army Medical Corps, he returned to University of Indiana to complete his residency.
In 1952, he joined the faculty, becoming a professor of medicine in 1961. He moved in 1972 to the University of South Florida (USF) in Tampa, where he founded the school's department of medicine and served as its chair for more than 20 years.
Dr. Behnke and his wife, Ruth, were avid supporters of USF, with Lake Behnke at the USF Botanical Gardens being named in their honor in 1994. He also received numerous teaching awards during his career and was named chair emeritus of the USF's internal medicine department and an honorary USF alumnus in 1995.
Dr. Behnke was elected Governor for the Florida Chapter in 1980. Under his leadership, that chapter developed a set of bylaws and established a Governor's Advisory Council. He received the Florida Chapter's Laureate award in 1991 and became a Master of the College in 1996.