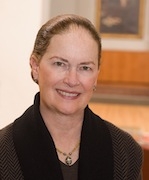 Awards
School of Medicine Distinguished Alumni Award (1998)
About Jane E. Henney
Jane E. Henney is a physician who was the first woman to serve as the commissioner of the U.S. Food and Drug Administration. She was appointed by President Bill Clinton and served between 1998 and 2001.
Dr. Henney received her undergraduate education at Manchester College and her medical degree from Indiana University School of Medicine in 1973. She trained as a oncologist at the University of Texas MD Anderson Cancer Center in Houston. After her residency, Dr. Henney joined the National Cancer Institute at the National Institutes of Health in 1976, working in the Cancer Therapy and Evaluation Program.
Dr. Henney has also worked at the FDA from 1992 to 1994 as deputy commissioner for operations under then commissioner David Kessler, and then at the University of New Mexico, where she was vice president of the health sciences center. Currently, she is a professor of medicine at the University of Cincinnati, where she originally joined in 2003 as the senior vice president and provost for health affairs at the University of Cincinnati in 2003. Dr. Henney was appointed as a director for Cubist Pharmaceuticals in March 2012.