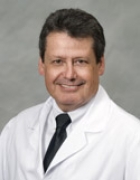 Awards
School of Medicine Distinguished Alumni Award (2004)
About William Dalton
William S. Dalton is a physician and oncologist, who is board certified in internal medicine and oncology. He is the CEO of M2Gen, a Moffitt Cancer Center biotechnology company. From 2002 to 2012, he served as the President, CEO, and Center Director of the H. Lee Moffitt Cancer Center and Research Institute at the University of South Florida (USF) in Tampa, FL. Dr. Dalton has also served as dean of the University of Arizona College of Medicine in 2001-2002. He is a founding director of Moffitt's Personalized Medicine Institute, which was established in 2012 to focus on Moffitt's brand of personalized medicine.
Dr. Dalton received his Ph.D. and medical degree from Indiana University School of Medicine. He then completed his residency in medicine and fellowships in oncology and clinical pharmacology at the University of Arizona in Tucson, where he also was part of the faculty. Dr. Dalton directed the Bone Marrow Transplant Program at the Arizona Cancer Center during his time in Tucson.
In 1996, Dr. Dalton joined Moffitt and became its associate director for clinical investigations and deputy director of the cancer center. He also founded and chaired the Department of Interdisciplinary Oncology at the University of South Florida where he is a professor of oncology. He left Moffitt briefly in 2001 to serve as dean of the College of Medicine at the University of Arizona, returning seven months later in 2002 as the cancer center's president, CEO and center director.
Dr. Dalton's research covers malignant hematology, drug discovery, the biochemical mechanisms of drug resistance, and the biology and treatment of multiple myeloma. Throughout his career, he has published extensively, served on numerous editorial advisory boards for professional publications, participated extensively on committees for National Institute of Health/National Cancer Institute, American Association of Cancer Research, American Society of Hematology and the American Society of Clinical Oncology. He has also served on many university-based scientific advisory boards.