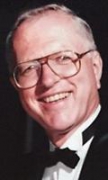 Awards
School of Medicine Distinguished Alumni Award (2007)
About John N. Pittman
Graduating in 1957 from IUSM, Dr. Pittman became a pioneer in developing new cardiovascular surgical techniques and, with a team of physicians, performed the first heart transplantation surgery in the state of Indiana.
At IU, he was named to Alpha Omega Alpha, the esteemed national Medical Honor Society. In 1957, Dr. Pittman took an Internship at the U.S. Army Tripler Hospital in Honolulu, HI. He spent his second year in ENT, and then transferred to Fort Benjamin Harrison in Indianapolis to become the director of the EENT department in his third year. After his stint in the armed forces, Dr. Pittman took a surgery residency at Methodist Hospital in Indianapolis from 1960 to 1963. Dr. Pittman then ventured to the University of Michigan to take a thoracic surgery Fellowship until 1965. Next, he returned to Methodist and assisted in developing a cardiac surgery program at the hospital. He was a member of the surgery team that performed the first heart transplant surgery in Indiana at Methodist Hospital.
In 2000, Dr. Pittman was named a Sagamore of the Wabash by Governor Frank O'Bannon for his exceptionally valuable contributions in cardiovascular surgery. Dr. Pittman has been a longtime supporter of Indiana University School of Medicine, having worked on the Dean's Council and the J.O. Ritchey Society committees. In 1982, he and his wife donated a scholarship to Indiana University for outstanding academic students who are interested in surgery. In 2007, Dr. Pittman was named an Distinguished Alumnus of Indiana University at the 50th anniversary reunion of the Medical School Class of 1957.