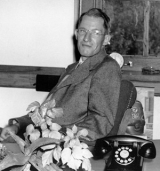 Awards
E. Ross Bartley Award (1975)

Bloomington, Indiana
Presenter: John William Ryan
About Robert L. Mossholder
A native of Lincoln, Nebraska, Robert L. Mossholder became director of publications at Indiana University in 1950. Several years later, his responsibilities expanded to include direction of the University's printing and duplicating facilities as well as the original editorial and design functions of the office.
Besides his 25 years of service at Indiana University, Mossholder's professional career also included a position as assistant to the president and chairman of the Department of Journalism, University of Nebraska at Omaha; publicist and assistant editor, University of Nebraska; editorial staff, Nebraska State Journal; owner and publisher, Northwest Nebraska News. Mossholder was a member of American College Public Relations Associations, Society of Associated Industrial Editors, American Association of University Professors, and the Optimist Club.
President John W. Ryan said of Mossholder, "Under Bob Mossholder's leadership, Indiana University has gained a national reputation for excellence among college and university publication organizations. His talents and dilligence have greatly benefited students, faculty, staff, and administrators of the university and his substantial contributions to our progress in communication stand as a high benchmark among those who have served Indiana University with honor and distinction."