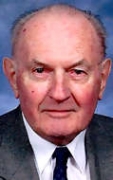 Awards
E. Ross Bartley Award (1976)

Bloomington, Indiana
Presenter: John William Ryan
About Robert E. Burton
Robert E. Burton was born April 28, 1918, in Kearney, Nebraska. He graduated in 1935 from Burris High School, Muncie, and in 1939 from Ball State University, where as a student he had served as editor of the student directory and for two years in editorial positions for the Ball State News. He was an Army veteran of World War II, serving in Europe and discharged as a Sergeant in the Antiaircraft Command Section of the 15th U.S. Army Headquarters.
Burton taught commercial subjects and was business manager for school organizations for two years at Bremen, Indiana, High School. He came to Indiana University in 1941 as Assistant Cashier and Ticket Manager. A year later he was appointed Assistant to the Vice President and Treasurer and served four successive chief business officers before his retirement in 1988. Additionally, he was named Assistant Secretary to the Board of Trustees in 1951, became Assistant Secretary-Assistant Treasurer in 1974, and served as Board Secretary from 1981 until retirement in 1988. Special responsibilities at Indiana University included 23 years as a member of the Scholarship Committee, ten years as chairman of the Halls of Residence Committee, Secretary of the President's Administrative Committee from 1952 to 1968, Business Adviser for the 1942 and 1943 editions of the Arbutus yearbook, Administrative Representative on the Union Board from 1969 to 1971, staff officer for the faculty housing program during the decade immediately following World War II, and serving seven years as platform marshal for University commencements and ceremonies on the eight campuses.
Related to his work at Indiana University, he had served as President of IU Retirement Community (forerunner of Meadowood Retirement Community), Indiana Association of College and University Business Officers, and IU Annuitants Association, and as Assistant Secretary of the Indiana-Purdue Foundation at Fort Wayne. He received the E. Ross Bartley Memorial Award for University staff in 1976, the Leather Medal Award of Sigma Delta Chi (now the Society of Professional Journalists) in 1986, and was named Sagamore of the Wabash by Governor Robert D. Orr in 1988. Active in community affairs, Burton was President of the Greater Bloomington Chamber of Commerce in 1971-72, President of the United Way in 1963 and its General Campaign Chairman in 1977, a member of the MCCSC Building Corporation in 1999, and a member of the Hospital Authority of Monroe County since 1986.
Other responsibilities included President both of the Community Service Council and its predecessor organization, the Monroe County Community Council, President of the Monroe County Historical Society and Director of the Fountain Federal Savings Bank. He received the Mary Alice Gray Award of the United Way in 1995, Outstanding Volunteer of the Year of the City of Bloomington in 1985, and Citizen of the Year Award of the Bloomington Board of Realtors (jointly with Joan Burton) in 1982. He was a 57-year member of the Bloomington Kiwanis Club, which he served as President in 1960, Lieutenant Governor for the Collegiate Division of the Indiana District in 1963, and Treasurer of Kiwanis Indiana Foundation from 1973 to 1990. He had been named a Life Member of Kiwanis International.
A member of First United Methodist Church of Bloomington since 1942, he had served in leadership positions within the Church, as well as two eight-year periods as a lay delegate to the South Indiana Conference, and as Chairman of the Indiana Area Commission on Campus Ministry from 1964 to 1968. In pursuing family genealogy and history, he had become a member of heritage societies, including Sons of the American Revolution, for which he was Indiana Society Secretary from 1994 to 2005 and President two years of the Clarence A. Cook Chapter, Indianapolis; and Society of Indiana Pioneers, for which he was Treasurer for two years and a board member for three years.