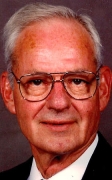 Awards
E. Ross Bartley Award (1982)

Bloomington, Indiana
Presenter: John William Ryan
About Robert L. Siebenthal
Born and raised in Monroe County, Indiana, Robert Lane Siebenthal graduated from Indiana University School of Business with a major in banking and finance in 1939 where he was also a member of Phi Kappa Psi fraternity.
Bob entered the military service in June 1941 and was commissioned a 2nd Lt. in the United States Air Force in June 1942. He served as a P-38 pilot with the 80th Fighter Squadron in the Southwest Pacific and was honorably discharged from active duty in 1945. He is a lifetime member of the 80th Fighter Squadron Headhunter Assoc. He served in the U.S. Air Force Reserve until 1978, and retired as a Lt. Colonel. Bob joined the staff of Indiana University Insurance Department in 1946. Ten years later he joined the budget office, where he remained for the rest of his career.
He retired from IU in 1983 as Director of Office of Budgetary Planning and Preparation. During his time in the budget office, the university's budget grew from $51M to over $560M and Mr. Siebenthal's skill, wisdom, and dedication were the keys to his success. During his long tenure at IU, he served in various capacities under four IU presidents: Herman B Wells, Elvis Stahr, Joe Sutton, and John Ryan. In 1979, Indiana Governor Bowen appointed Siebenthal to serve on the state employee's compensation task force, representing all public institutions of postsecondary education in the state.
After retiring, he remained active, volunteering for Meals on Wheels, and serving as a deacon and treasurer at First Christian Church. He served as a board member of Fountain Federal Savings and Loan (now Old National) and was a member of Bloomington Elks Club and the American Legion.