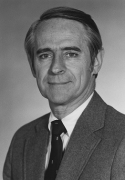 Awards
E. Ross Bartley Award (1999)

Bloomington, Indiana
Presenter: Myles Brand
About John D. Mulholland
After serving in the U.S. Infantry, where most of his time was spent in the Army Band, John D. Mulholland entered Clarkson College of Technology in Potsdam, New York, and obtained a B.B.A. (1950). He then went to the University of Michigan for an M.B.A. (1951). Jack, as he is better known, became a C.P.A. in New York State in 1958. Mulholland started his accounting career with Arthur Andersen and Company (1951-56) in New York City, moving to Dayton, Ohio, as assistant to the controller of H.C. Huber Construction Company, Inc. (1956-57).
In 1957 he moved his family to Rochester, New York, where he was associated with General Dynamics (1957-61) as an internal auditor. An opportunity as Manager of General Accounting (1961-65) for Mead Johnson and Company brought the Mulhollands to Evansville, Indiana (1961-65). Jack advanced to Controller (1965-68); he also coordinated accounting and reporting matters during Mead and Johnson's merger with Bristol-Myers Company, having become Vice-President of Mead Johnsons' Operating Division (1968-69). He received the firm's President's Award in 1963.
He moved to Honolulu in 1969 as Vice President and Controller of Theo H. Davies and Company, Ltd., where he remained until he came to Indiana University in 1972 as Assistant Vice President for Financial Affairs. He was named Treasurer for Indiana University and the Board of Trustees in 1974. During his long tenure at IU, he guided the university's finances through some very difficult years. Jack's service to Indiana University extended beyond his professional affairs. He continued his interest in the theatre by lending his time and talent for fundraising to the Indiana University Theatre Circle, where he has served as President. He also served as President of the University Club and as President of the National Association of College and University Business Officers, who awarded Jack their most prestigious honor, the Distinguished Business Officer Award.
He is a member of the Central Association of College and University Business Officers, the American Institute of C.P.A.'s, and the National Association of Accountants. He was elected to the Board of Directors of the greater Bloomington Chamber of Commerce and is a member of Big Brothers/Big Sisters of Monroe County. Jack provided stewardship to the Community Foundation in Bloomington, serving as the organization's first executive director, and to the Habitat for Humanity chapter where he volunteered countless hours and financial expertise.