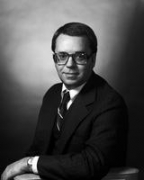 Awards
E. Ross Bartley Award (2005)

Bloomington, Indiana
Presenter: Adam W. Herbert
About Robert L. Cochran
Robert Cochran began his career at IU in 1964, as an assistant in the Budgetary Planning and Preparation Office, which is now known as the University Budget Office. In 1972, he transferred to the Business Management Office and became the assistant business manager for the Bloomington campus.
During his service in the Business Management Office, Bob earned a reputation as a generous mentor. Sara McNabb worked for him in the budget office from 1978 to 1982. She said of Bob, "He taught me how the university really works and how to get things done in this institution."
Recognizing the value of a colleague with an intimate understanding of the business side of the university, Chancellor and Vice President for Academic Affairs Ken Gros Louis recruited Bob to the position of Director of Administration and Assistant to the Vice President in 1981. Bob remained in the chancellor's office until his retirement in 2000. One of Bob's first jobs in the chancellor's office was to conduct reviews of all the non-degree-granting units on campus, units such as the health center, the halls of residence and the physical plant.
Chancellor Gros Louis described Bob's invaluable service in these words: "Bob Cochran conducted, along with Doug Priest, the first set of in-depth reviews of non-academic units ever done, to my knowledge. As the person responsible for explaining to me the campus emergency plan, he gave me a wheel with a number of items, but he fixed it to point at 'call Bob.'"
Gros Louis, and many other people, relied on Bob for a variety of tasks and he performed his duties at the highest level. He was highly instrumental in establishing solid working relationships between the chancellor's office and university-wide administrative areas.