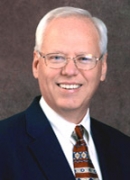 Awards
E. Ross Bartley Award (2010)

New Albany, Indiana
Presenter: Michael A. McRobbie
About Larry Mand
Larry Mand has a Bachelor of Arts from the University of Wisconsin-Madison in Mathematics and French; a Master of Arts from the University of Kentucky – Lexington in Mathematics; and Ph.D. from the University of Kentucky – Lexington in Mathematics.
Dr. Mand was Vice Chancellor for Information Technology at IU Southeast for nearly three decades. He was responsible for IT support for a campus of 6,300 students and nearly 500 faculty and staff with approximately 1,500 desktop computers, campus-wide wireless access, telephone service to nearly 500 lines with advanced telecommunications features, and enterprise software that supports the campus' teaching and learning mission and business operations. Under his direction, IT developed and supported a campus website, provided digital audio and video services, and provided campus printing and duplicating services. As Vice Chancellor for Community Engagement, Dr. Mand represented the campus on various regional and statewide bodies, primarily in the areas of economic development and information technology in the New Albany and southeastern Indiana region.
Dr. Mand has been chair of the Indiana University Council of Chief Information Officers, co-chair of the Greater Louisville, Inc. (GLI) HIRE Education Forum – a consortium of 26 higher education institutions in the Greater Louisville region working to increase post-secondary education attainment throughout the area. He has been a member of the GLI Technology Network, the GLI CIO Roundtable, the One Southern Indiana (1SI) Education Taskforce, and the Purdue College of Technology at New Albany Advisory Board.
Since leaving IU in late 2011, Dr. Mand is a managing member of INnovation Angels, LLC. Innovation Angels is an investment group based at the Purdue Technology Center of Southeast Indiana, in the Purdue Research Park of Southeast Indiana, a 40-acre business incubator and educational facility on Charlestown Road in New Albany. The investment group was created by Larry Mand and Paul Moses, the center's director and director of the Purdue Research Foundation, which operates the center.