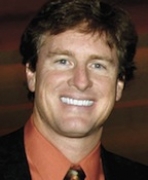 Awards
Kelley School of Business Distinguished Entrepreneur (2005)
About Steven J. Bellamy
Steve Bellamy is the president and founder of The Tennis Channel, and spearheads the network's development and emerging role as a hub for the sport. One of the most connected people in the sport today, he has parlayed his many entertainment and tennis-industry relationships to create tremendous synergies and growth for tennis. He has also become one of the most recognizable faces for tennis, appearing frequently as a radio and television news analyst, and a popular advocate of the game.
A longtime fan of and cheerleader for the sport, Bellamy has been integrally involved in every facet of the industry, including facilities owner, promoter, top coach, celebrity go-to guy, tournament director, marketer and evangelist. In 1985, he founded Atonal Tennis, Inc. which built, bought and operated tennis centers and tennis businesses, including the world-famous Palisades Tennis Center, Santa Monica Tennis Center and Westchester Tennis Academy.
Bellamy's efforts as owner and operator turned the Palisades Tennis Center into a world-renowned, model tennis facility, prompting Independent Business Magazine to call it "the crown jewel of American tennis," and W Magazine to declare it "the Westside Mecca for celebrity players." His unique methods for instruction have reinvented the way the game is being taught and the way facilities are being programmed around the country. "The Palisades Tennis Center has simply revolutionized the way the tennis is being presented today at the grass-roots level," said Tennis Industry Association President Jim Baugh. "Live Ball," Bellamy's exciting and innovative brand of "rock 'n' roll tennis" coaching turned the Palisades Tennis Center into a stomping ground for notables such as Arnold Schwarzenegger, Hilary Swank, Sally Field, Patrick Rafter, Bjorn Borg, John Lloyd and droves of other celebrities and professional tennis players. His business acumen and personal flair helped the Palisades Tennis Center increase its revenue nearly tenfold in just a few years.
After a 10-year hiatus from his junior playing days, Bellamy got back into the tennis business as a way of paying studio bills for the rock band he fronted. He would give tennis lessons during the day and spend all night in the studio, concert venue or rehearsal hall. He first started coaching tennis with the same creativity he brought to music, and then started marketing tennis with the same skills he learned as a relentlessly hard-working promoter of his albums. Bellamy is an internationally recognized coach with clients that have included world leaders, Hollywood's "A-list" and some of the greatest players in the sport.
In 2004 Sports Business Journal named Bellamy to its list of the top 10 most influential people in professional tennis. He currently sits on boards and committees of the industry's most important organizations, including the ATP Foundation board, Tennis Industry Association board and International Tennis Federation's Joint Media Commission. He is also involved at the game's highest decision-making levels, lectures to thousands monthly, is a frequent personality at nationwide celebrity tennis events, and has served as a national radio analyst for ESPN and Sporting News.