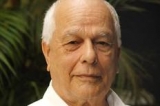 Awards
Thomas Hart Benton Mural Medallion (2012)

Signing Ceremony at the Brazilian Academy of Letters
Presenter: Michael A. McRobbie
About Nelson Pereira dos Santos
Nelson Pereira dos Santos, considered the initiator of modern Brazilian cinema in the 1950s, is also its most literary filmmaker. In fact, of his 25 features, 15 were based on literary work from Brazilian writers. This has assured him a privileged place as a member of the prestigious Brazilian Academy of Letters; never before has a Brazilian filmmaker been immortalized in this way.
Throughout the last five decades, Santos produced and directed films of differing genres and themes. From documentaries to fiction films, he always keeps a distinguished sense of cinema's role in society, maintains an independent authorship, and achieves an innovative and creative approach to exploring Brazilian culture. Since 1965, Santos has transmitted his knowledge and experience as a filmmaker through his role as a professor of cinema in universities and institutions in Brazil—University of Brasilia and Federal Fluminense University—and the United States—Columbia University, UCLA, and Sundance Institute.
He has won prestigious honours in Brazil, Cuba and Portugal, as well as many international awards in film festivals such as Cannes, Berlin, Venice, Edinburgh, Genoa, Valladolid, Havana, London, Los Angeles, New York, Milan, among others. Also, he has been honoured by retrospectives of his work all over the world. In France, he received the distinguished titles of Commander of l'Ordre des Arts et des Lettres and Chevalier de la Légion d'Honneur.