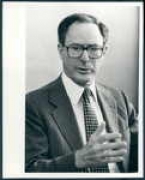 Awards
Kelley School of Business Academy of Alumni Fellows (1983)
About Roscoe L. Egger, Jr.
Roscoe L. Egger, Jr. was the Commissioner of Internal Revenue for the United States Internal Revenue Service from 1981 to 1986. During his tenure at the IRS, he pushed for reforms to modernize the country's tax service.
Egger attended Indiana University and graduated in 1942 before joining the U.S. Army in World War II. Egger earned the Bronze Star and the Purple Heart for his actions in Europe during the war. After he left the army, Egger went to George Washington University School of Law, where he received his J.D.
In his early career, he worked for the General Accounting Office and as a private tax accountant. In 1956, he joined the Price Waterhouse accounting firm, here he became a partner in charge of its tax practice and headed its Office of Government Services in 1973. Egger remained with the firm until he was nominated to the position of Commissioner of Internal Revenue by President Ronald Reagan in 1981, becoming the second CPA to head the department. He was appointed on January 24, 1981.
Throughout his term, he faced numerous issues. Tax evasion was a rising trend. The tax code was too complicated, and the IRS budget was too small. In 1985, the IRS lost thousands of returns when its computers failed, causing Egger to apologize to the public. Despite these problems, Egger had some successes. He assisted with the drafting of the Tax Reform Act of 1986, which simplified and improved the outdated tax code. He was able to obtain a larger budget for the IRS that year and increased its use of technology. These actions earned him the Tax Executive's Distinguished Service Award in 1986. He left the IRS in 1990 to return to his old accounting firm as a consultant. Egger then retired to Arizona, and passed away in 1999.
Egger left the IRS in 1990 and returned to Price Waterhouse as a consultant. He retired to Green Valley, Arizona and died at the age of 79 at the Mayo Clinic in Rochester, Minnesota on October 14, 1999 following heart surgery.[2]