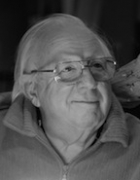 Awards
Kelley School of Business Academy of Alumni Fellows (1981)
About L. Duke Golden, Jr.
L. Duke Golden, Jr. was a lawyer and international businessman with 50 years of experience. He attended Indiana University in the 1950s, earning a bachelor's degree in corporate finance in 1951 and a juris doctorate in 1956.
Golden began his career with Glidden International Corporation, eventually progressing to the position of chief counsel and legal advisor for the international operations department in the company. Golden then joined Kaiser Jeep International Corp, working as the general counsel and then president and CEO of Kaiser Jeep Shipping Corporation and Kaiser Commerce. Golden also worked as the vice president of international operations for Northrop-Grunman Corporation. In recent years, Golden was a general counsel and served on the board of directors of OpusTek International Corporation, and Warren and Baerg Manufacturing Corporation.
In addition to his career, Golden co-authored two books on international business, "How to Expand a Business Abroad" and "Counter Trade in the Aerospace Industry". He also taught courses at the Graduate School of Golden Gate University in San Francisco, CA, and was appointed to the Northern California District Export Council by President Ronald Reagan.
Golden passed away on February 1, 2013 in Fresno, CA.