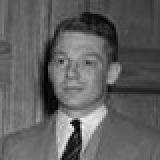 Awards
Kelley School of Business Academy of Alumni Fellows (1979)
About Walter G. Gadient
Walter G. Gadient was the chairman of Advance Ross Corp., former executive vice president of Lincoln National Corp., and former chairman and president of Lincoln National Income Fund. He attended Indiana University for both his B.S. and M.B.A., graduating in 1946 and 1951. Gadient also served in World War II.
After his college graduation, Gadient joined Lincoln National Life Insurance in 1947. He became its second vice president in 1960. Gadient then went to several other companies during the 1960s such as Robert Fulton Maine Co. and Dean Witter & Company before returning back to Lincoln National Corporation in 1970 as head of its investment department. He also served on the boards of many major corporations including: Lincoln National, Chicago Title & Trust Co., Heller International Corp., Frontenac Venture Group and CFS Continental.In addition, he was a former trustee of DePauw University and of Roosevelt University.
He passed away at the age of 68 in 1992.