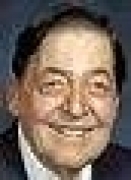 Awards
Kelley School of Business Academy of Alumni Fellows (1980)
About Alan B. Graf, Sr.
Alan B. Graf Sr., earned both a bachelor's degree and an MBA at the Kelley School in 1951 and 1954. He started his career with Keller-Crescent Co. and later went on to become the group president of American Standard, directing the advertising agencies and commercial printing companies. Graf later joined Diamond Crystal Salt and retired as president/CEO of AKZO Nobel Salt in 1994.
He was inducted into the school's Academy of Alumni Fellows in 1980.