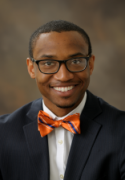 Awards
Stahr Senior Award (2012)
About Aaron Barnes
Aaron Barnes, of Kokomo, graduated from Indiana University Bloomington with a B.S. in business (marketing). He was a Cox Research Scholar.
At IUB, Aaron co-founded the Men of Color Leadership Institute. He worked in the Multicultural Outreach Recruitment Educators (MORE) as Public Relations chair, with the Intensive Freshmen Seminar (IFS) as a Student Intern, and the First Year Experience Programs office (FYE) as a Student Coordinator for New Student Orientation (NSO). He was a member of Kappa Alpha Psi, serving as Keeper of Exchequer (treasurer) and Polemarch (president). As a member in the IU Greek community, he served as President and Academic Excellence chair of the National Panhellenic Council (NPHC). He was a member of the Board of Aeons.
Currently, he is pursuing a Ph.D. in marketing at the University of Illinois Urbana-Champaign. He holds an M.A. in Psychology from New York University.