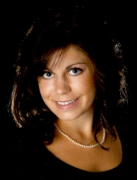 Awards
Wells Senior Recognition Award (2012)
About Mikaela Shaw
Mikaela Shaw graduated from Indiana University Bloomington with a B.A. in history and English. She is from Cincinnati, OH.
A Wells Scholar, Mikaela served as a Middle Way House volunteer and Director of Women's Affairs for Indiana University Student Association. Also on campus, she serves on the Committee On Multi-Cultural Understanding and is a member of Kappa Kappa Gamma sorority. She was elected to Phi Beta Kappa.
In conjunction with a Kelley School of Business course, she spent a spring break in Ghana analyzing its emerging economy and developing role of women. She studied Spanish and history in Seville, Spain while tutoring English and volunteering with Seville's homeless. She has interned for former Senator George Voinovich, the National Underground Railroad Freedom Center, and this summer worked at Thompson Hine LLP.
Currently, Mikaela is earning her J.D. at the University of Chicago Law School.