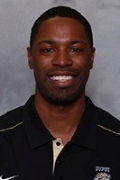 Awards
IUPUI Athletics Hall of Fame (2013)
About Don Carlisle
Don Carlisle (1997-2001), currently an assistant with the basketball program, was the basketball program's first true star at the Division I level. He was a three-time All Mid-Continent Conference performer and earned First Team honors following his senior season after averaging 15.5 points and 8.5 rebounds per game.
With Carlisle leading the squad, IUPUI was able to make a quick emergence at the Division I level, including an early benchmark win over Indiana State. He is IUPUI's all-time leader in rebounds (769) and accumulated 1,340 points over his four seasons. He led the Jaguars in both scoring and rebounding in each of his final three seasons and also is tied for fifth in career steals (165). Following his IUPUI playing career, Carlisle enjoyed an 11-year professional playing career, including a long stay in France and stints in Sweden, Australia and throughout the U.S..
An Indianapolis-native, Carlisle completed his degree requirements in 2008 while assisting the IUPUI coaching staff in player development. Carlisle becomes the 15th former men's basketball player to earn induction into the IUPUI Hall of Fame.