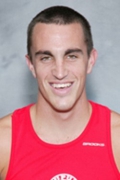 Awards
IUPUI Athletics Hall of Fame (2013)
About Brad Wheeler
Brad Wheeler (2004-07) finished his career as IUPUI's top distance runner in the history of the cross country program. The Franklin, Indiana-native was a four-time First Team All-Conference performer and was the team's top finisher in 22 of 28 career race entries.
At the time of his graduation, he held both the 8K and 10K records and had posted seven of the 13 fastest 8K times in school history. Additionally, he held the three fastest 10K times in the IUPUI record book and was co-recipient of the Mel Garland Distinguished Student-Athlete Award following his senior season. His 8K time of 25:08.47 at the Bradley Invitational set in 2004 stood as the program's fastest for over six years while his 32:00.0 10K time remains the fastest-ever in IUPUI history.
Wheeler becomes the first-ever honoree from the IUPUI Men's Cross Country program.