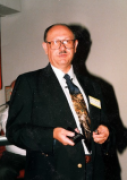 Awards
IU South Bend Distinguished Alumni Award (1993)
About Alan B. Hall
Dr. Alan Hall attended IUSB in the 1970s, graduating with a B.A. in 1973 and a M.D. in 1977. He had a three year stint in the Army during his college education, which changed his career trajectory from performance music to medicine. He went on to pursue his pre-medical studies at IUSB although
his major was sociology with a concentration in psychology.
He works as a medical toxiologist in Denver, CO. Hall originally practiced clinical medicine and today, his work involves participating in the design of pre-clinical and clinical studies, interpretation of data, translating data from any of several other languages into English, and editing or writing medical/scientific papers and/or textbook chapters for publication.Hall's endeavors have allowed him to travel widely and to meet people from all over the world, such as his trip to Kumtor Gold Mine in the mountains between the Kyrgyz Republic and China to investigate a spill of 20 tons of sodium cyanide from a joint Kyrgyz-Canadian operated gold mining operation into a river and lake system.
He received the Distinguished Alumni Award in 1993.