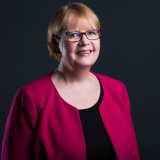 Awards
IUAA President's Award (2021)
Bicentennial Medal (2020)
IU Kokomo Distinguished Service Award (2012)
About Cathy Valcke
Cathy Valcke began her career at IU Kokomo in April 1998, as director of alumni relations and public affairs. In June 2010, she became director of human resources, a position she continues to hold in addition to serving as interim vice chancellor for the Office of Advancement and Public Affairs.
Valcke earned a bachelor's degree in communication arts from IU Kokomo, as well as a Master of Science in higher education administration and student affairs from IU.
She won the Outstanding Administrator of the Year award in 2000, and the Don Lane Service Award in 2003. She has served as president and vice president of the professional staff council.
In the community, Valcke is a member of the United Way of Howard County Board of Directors, was on the development council for the Congregation of St. Joseph in Tipton, graduated from Leadership Kokomo, and volunteers with the Family Service Association of Howard County.
Valcke received the IU Bicentennial Medal in March 2020 in recognition of her distinguished service to Indiana University Kokomo.