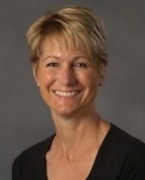 Awards
School of Education Distinguished Alumni Award (2016)
School of Nursing Excellence in Nursing Award (2009)
About Angela McNelis
Angela McNelis was born and raised in Indianapolis. She received her Bachelor of Science in Nursing from DePauw University, and then completed three degrees at Indiana University (Masters in Education, Masters in Nursing, and Ph.D. in Nursing). Following her postdoctoral fellowship, she accepted a position at the IU School of Nursing in 2001, was awarded tenure in 2007 and was promoted to Full Professor in 2014, with teaching as her declared area of excellence. She has made significant contributions to IU as well as to state, national and international academic and professional organizations. In January 2016, she accepted the position of Associate Dean for Scholarship, Innovation and Clinical Science at The George Washington University School of Nursing.
McNelis is a leader, scholar, and educator transforming education through her evidence-based research, landmark studies, pedagogical innovations, and promoting the broad dissemination of this work. Her leadership advances the field of nursing by developing evidence to direct transformative changes in education across pre-licensure, graduate and doctoral education. She has made impressive contributions to disciplinary understanding of the challenges of current clinical education models and how student-faculty interactions promote (or fail to promote) student learning. Her scholarship in inter-professional education furthers the mission of integrating mental and physical health into the community by preparing nurses, social workers, and medical residents to address psychiatric and mental health concerns in care delivery. Her work exploring doctoral education provides necessary evidence to guide revision of doctoral programs that will prepare our next generation of faculty leaders in the field of nursing.
McNelis is a Fellow of the American Academy of Nursing, an American Nurse Educator Fellow, and Certified Nurse Educator. Her leadership significantly impacts education across the program spectrum through her evidence-based research that calls for transformation in both the didactic and clinical arenas to prepare better graduates to deliver safe, quality patient care in healthcare settings.