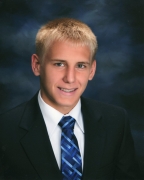 Awards
Goldwater Scholarship (2013)
About Jordan Venderley
Jordan Venderley graduated from Bishop Dwenger High School, in Fort Wayne, Indiana, as valedictorian with academic honors. As his collegiate accomplishments can attest to, such academic success has not remained in Jordan's past.
A current IU student studying Physics, Mathematics and Chemistry, Jordan is the recipient of many IU scholarships, including the Robert C. Byrd Honors Scholarship, Valedictorian Scholarship, Hutton's Honors Scholarship, the McKenzie Scholarship, the Robert & Marjorie Mann Scholarship, and the College of Arts and Sciences Kochert Senior Scholarship. Most recently, Jordan was also recognized as a 2013 Goldwater Scholar; this prestigious scholarship is awarded only to students studying science, mathematics, or engineering, who are in the top 25% of their class.
Jordan's career objective upon graduation from IU is to conduct research in theoretical chemistry or theoretical physics, and teach at the university level. When he's not in the classroom or lab, Jordan participates in IU's Math Club and IU's Physics Club activities.