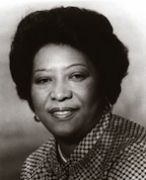 Awards
Honorary Degree (1996)

D.S.
Doctor of Science
Gary, Indiana
Presenter: Myles Brand
School of Nursing Special Recognition Award (1980)
About Rhetaugh G. Dumas
Rhetaugh Graves Dumas was the Lucille Cole Professor of Nursing and the former dean of nursing at University of Michigan in Ann Arbor, MI. Dr. Dumas also was a former deputy director of the National Institute of Mental Health. She was the first woman, the first nurse, and the first African-American to serve as a deputy director at NIMH, which is part of the National Institutes of Health. Dr. Dumas led the division of manpower and training programs from 1979 to 1981 and urged that training address unserved and under-served populations.
Overcoming difficulty finding a nursing program that would accept African-Americans, Dr. Dumas graduated from Dillard University in New Orleans in 1951. She began her career working both as a nurse and a substitute teacher in Natchez, MS. In 1957, she became an instructor at Dillard University. Next, she attended Yale University and graduated in 1961 with a master's degree in psychiatric nursing. Afterwards, she joined Yale's faculty and became an associate professor and chair of psychiatric nursing at the Yale School of Nursing. In 1972, she moved to the D.C. area to join the staff at the NIMH in Rockville, MD. In 1975, Dr. Dumas received her doctorate in nursing from the Union Institute, a distance-learning institution based in Cincinnati.
With her doctorate in hand, Dr. Dumas was appointed by Patricia Roberts Harris, the Secretary of Health and Human Services to the position of deputy director at NIMH. She remained in the position until she was appointed to become the dean of the University of Michigan School of Nursing in 1981. Dr. Dumas stayed at Michigan until retiring in 1994.
Her career also includes leadership positions in the nursing community and author of influential articles such as the "The Effect of Nursing Care on Postoperative Vomiting" and "Dilemmas of Black Females in Leadership". Dr. Dumas was a founding member and president of the American Academy of Nursing, and a member of the National Bioethics Advisory Commission. IU presented her with the School of Nursing Special Recognition Award in 1980 for her numerous achievements in the nursing field.