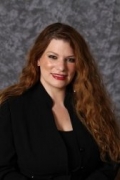 Awards
McKinney School of Law Early Career Achievement Award (2013)
About Andrea Ciobanu
Andrea Ciobanu has her own practice and focuses on civil rights and litigation, education law, ADA compliance, family law, and appellate practice. She also serves as a consultant to the Indiana Supreme Court on its civil law and family law pilot project, and works with the Indianapolis Bar Association's Family Law Executive Committee.
Ciobanu is a passionate supporter of her alma mater, serving as a permanent host committee member for the school's Public Interest and LRAP Dinner, and often serves as a guest speaker on various topics, including how to become acclimated to law school life and how to pass the bar.
The law school alumna, who is fluent in American Sign Language, also strives to serve as the legal voice for the deaf community, and deaf rights, and works through the various bar associations to accomplish this goal.