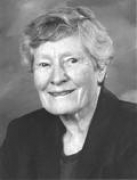 Awards
Bill Orwig Award (2012)
About Marge Counsilman
Marge Counsilman has been a business coordinator, bookeeper, proofreader, student, restaurateur, mother of four children, and a swimming coach's wife. When she married James "Doc" E. Counsilman in 1945, she married into swimming as well, becoming every bit as important to the Indiana University Swimming Team team as Doc himself. As he wrote books on the subject, invented training equipment specific to swimming, developed training and stroke films and coached swimmers from beginners to Olympic champions, Marge consoled, assisted, and supported Doc and the team on their way to success.
Marge was an important part of the overall success of the IU team during the 33 years Doc coached. She was the team's surrogate mother. She was a source of emotional stability during a swimmer's tumultuous time of competitive swimming. She hosted dinners and gatherings at her home. She ran the swim meets, including the Indiana State Championships, staffed the scoring table and kept the records. Marge ran the 16mm stroke film and pace clock business from 1959 when the first pace clock was sold until 1974 when the business became incorporated. At that time, she became secretary-treasurer of Counsilman Company until the corporation dissolved in 1990.
Between her family, team, and businesses, Marge's life was constantly busy, but always fun. From 1994 to 2001, she owned a restaurant in Bloomington, Indiana and staffed it with her kids. Marge did everything from scrubbing the floors and cleaning the ovens to keeping the books. In the five books the Counsilmans published, Doc wrote the technical matter and Marge wrote the text including choice of words, use of commas, semicolons and dangling participles. Books include The Complete Book of Swimming, The Competitive Swimming Manual for Coaches and Swimmers, Beginning Skin & Scuba Diving, and The Science of Swimming. They were published in 28 languages. From 1977 to 1991, Marge also helped to run the Counsilman Stroke Camp.