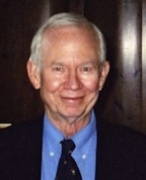 Awards
Rhodes Scholar (1953)
Maurer School of Law Academy of Law Alumni Fellows
About Joseph B. Board, Jr.
Joseph B. Board Jr., JD'58, was a Rhodes Scholar,attorney, and retired professor at Union College in Schenectady, NY. The Robert Porter Patterson Professor of Government Emeritus, Board taught in Union's political science department from 1965 to 2003. He was known not only for his high level of scholarship but for his warm and interactive teaching style. "Without question, I always learn a great deal from the students I teach," he once said.
Born in Princeton, Ind., Board received an AB with highest honors from Indiana University; a BA and MA from the Oxford University Honours School of
Jurisprudence; a PhD from Indiana University; and a JD from the IU School of Law - Bloomington. Fellowships include a Fulbright to Sweden's Scientific Society of Lund University, where he earned his Ph.D. Honoris Causa, Umea University (Sweden). He held teaching positions at Indiana University, Elmira College, Cornell College, Albany Law School, London School of Economics, University of Umea, and University of Paris. He was a guest lecturer worldwide, including appointments with University of California (Berkeley), Oxford, London, Nottingham, Costa Rica, Copenhagen, Stockholm, and Lund. Board's committee and consulting work has included chair positions with the United States Selection Committee for NATO Fellowships; The Political Science Committee Council for the International Exchange of Scholars; as well as membership in the Rhodes Scholarship Selection Committee for Iowa and Nebraska, the Indiana Bar, and the NAACP, among others.