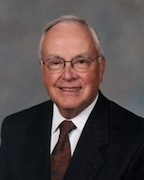 Awards
IU Foundation President's Medallion (2012)
Maurer School of Law Academy of Law Alumni Fellows (2009)
About Arthur M. Lotz
Arthur M. "Art" Lotz is an outstanding legal professional, who through his creativity, common sense, good judgment, and integrity has contributed enormously to the advancement of the Maurer School of Law and Indiana University.
A native of Illinois, Lotz attended the University of Illinois until 1951 when he joined the Air Force during the Korean War. After 10 years as an Air Force pilot, he returned to Indiana to complete his degree in business in 1962 at Manchester College and then relocated his family to Bloomington to attend law school.
After receiving his law degree in 1965, Lotz began a lifelong career in academic administration. Lotz first joined the IU Treasurer's office and then accepted a position as the associate director of the IU Alumni Association. In 1978, Lotz joined the Law School as the assistant dean for placement and bar relations, and in 1980, he assumed the duties of assistant dean for budget administration, bar relations, and development, the position he held until his retirement in 1996.
During his 18 years at the Law School, Lotz worked with four deans, three acting deans, and numerous faculty and administrators. When Lotz recognized that state support and tuition were inadequate to fund the School's vision and mission, he worked to bring alumni relations and development programs into the Law School, when they had previously been handled solely by the IU Foundation and IU Alumni Association. Under Lotz's direction, the School's annual fund went from less than $50,000 per year to more than $800,000 by 1996. During Lotz's tenure, the School received new funding for 27 endowed student scholarships, several lecture funds, the Wallace teaching award, and seven named professorships. Lotz was also instrumental in securing support and funding for the major renovation of the Law School during the 1980s.
Lotz's vision for expanding alumni involvement and support at the Law School has served as a model for other schools in the IU system. His tireless work as an ambassador for the Law School built the alumni goodwill that is the foundation for the School's current and future successes. In 2005, Lotz's classmates, colleagues, and fellow alumni created the Arthur M. Lotz Endowment for Alumni & Development, which funds alumni outreach efforts and honors the legacy that Lotz has created for the School.