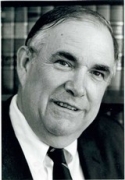 Awards
McKinney School of Law Distinguished Alumni Award (1984)
About William H. Miller
William H. Miller was a former Vanderburgh County Circuit Court judge, based in Evansville, IN. He was the youngest person to be appointed to the bench at the age of 38 in 1965 by Governor Roger Branigin, and he remained in the role until his retirement in 1990. Miller is known for his views on inmate programs, particularly rehabilitation. After his appointment to the court, Miller continued to win eleciton to the bench for the next 25 years. In 1990, the Indiana Supreme Court appointed him to become the first senior judge in a new program designed to allow counties to hire retired judges to help reduce court backlogs.
He was an advocate for the supervised Antabuse treatment for repeat DUI offenders in the early 1980s. Miller also pioneered programs such as the experimental shock probation of sentencing young offenders to prison and then unexpectedly revoking their sentence after a month or two, which was later adopted by other Indiana courts. He also developed a work release program for non-violent prisoners in the county, started a halfway house, and enacted a bail bond program to investigate defendants before setting their bonds. Miller also established a student intern program that allowed college students to gain experience in the judicial system by working as bailiffs, court officers, and court reporters. In addition to the legal system, Miller was active in the Evansville community. He was a member of the Evansville Housing Authority Board.
Born in Princeton, IN, Miller briefly attended Indiana University before joining the U.S. Army during WWII. After the war, he received a bachelor's degree from Evansville College (now known as University of Evansville) and went on to earn a law degree from Indiana University in Indianapolis. Miller was awarded honorary degrees from University of Evansville and Indiana State University. In 1984, he received a Distinguished Alumni Service Award from the IU School of Law.