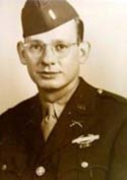 Awards
McKinney School of Law Distinguished Alumni Award (1987)
About William J. Tillett
Born in Peru, Indiana, Tillett was a 1939 graduate of Peru High School and received his bachelor's degree from Franklin College. After serving in World War II, Tillett earned a law degree in 1953. His military decorations included the WWII Victory Medal, the EAME Theatre Ribbon, 2 Bronze Stars, the American Theatre Ribbon and the Combat Infantry Badge.
Tillett married Daisy Lorena Wales in 1947 and they settled in Indianapolis. They were married for 61 years until Daisy's death in 2009. He earned a J.D. Degree from the Indiana University School of Law in 1967.
He was employed as Vice-President and Trust Officer with American Fletcher National Bank for 25 years, before it merged with Bank One and then became part of Chase Bank.
In the 1960's, Governor Matthew Welch appointed Tillett to serve on the Governor's Advisory Council on Mental Health. He served on this board for 18 years, 12 of them as chairman. Later, he was appointed by Governor Otis Bowen to serve as Vice Chairman of the Trust Code Study Commission, whose work ultimately resulted in the Indiana Trust Code.
Mr. Tillett helped establish the I.U. Indianapolis Law School Alumni organization and was a charter member and one of its first presidents. Tillett was also instrumental in establishing the local chapter of the Phi Delta Phi. Tillett was awarded the Indiana University School of Law - Indianapolis Alumni Association Distinguished Alumni Service Award in 1987. He is a long time member of Meridian Street United Methodist Church.