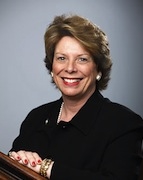 Awards
Bicentennial Medal (2020)
School of Education Distinguished Alumni Award (1997)
About Paula M. Rooney
Paula M. Rooney is the president of Dean College in Franklin, MA. She was named the 13th president of Dean College in 1995. Over the past 18 years, the college's enrollment has more than doubled, increased its overall retention rate, tripled its endowment from $7.9 million to over $30 million, improved campus facilities and technology, and established new baccalaureate partnerships to complement its associate degree programs. Dean College is one of the first schools in the country to become fully wireless. In addition, Dean College transformed from a school of 100% associate's degree students to a mix of 65% associate's degree and 35% baccalaureate's degree students.
Rooney is active in the professional and local community, serving as a member of the 495/MetroWest Corridor Partnership, the Hockomock Area YMCA Board of Incorporators and the New England Council, the last of which she also serves as chair of the Higher Education Committee. Rooney also is a member of the executive committee and treasurer of the Association of Independent Colleges and Universities in Massachusetts.
Prior to her appointment at Dean College, Rooney was the vice president for student affairs at Babson College, and held various administrative positions at Reed College, Colgate University, and Indiana University. She has a B.A. from Framingham State College, and a M.A. and Ed.D. from Indiana University.
In 2020, Rooney was presented the Bicentennial Medal for her distinguished service to Indiana University.