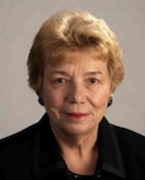 Awards
School of Education Distinguished Alumni Award (1986)
About Marilyn Sue Kesler
Marilyn Kesler, Ed.D. '64, is a retired orchestra teacher of the Okemos Public Schools in Okemos, MI. She spent forty-two years teaching strings to 7th and 8th graders and leading the high school orchestra. In retirement, Kesler remains active in music education as the director of the Community Education Suzuki program in which she teaches Suzuki cello lessons.
Kesler first taught as a general music teacher in Alton, IL. During that time, she earned a master's degree in music education at Southern Illinois University, where she specialized in the adaptation of the Suzuki Violin method for the cello. She attended IU for her undergraduate education and doctorate.
Currently, she is on the Suzuki Association of the Americas Board of Directors. She previously held past offices such as the president of the Michigan Chapter of the American String Teachers Association, Secretary of the Suzuki Association of the Americas, Chairman of the SAA Cello Committee, Public School Committee, and Michigan School Band and Orchestra Association vice-President of Orchestra Activities. In 1990, Kesler was the first recipient of the ASTA National School Educator Award, which is presented to the outstanding public school music teacher in the US.