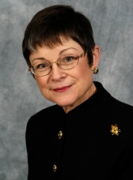 Awards
Bicentennial Medal (2019)
E. Ross Bartley Award (2014)

Presenter: Michael A. McRobbie
IU Foundation President's Medallion (2008)
About Robin Roy Gress
Robin Roy Gress served as secretary of the IU Board of Trustees from 1998 to 2014. A university administrator and communications professional, Gress earned a B.S. from the University of Oregon, and M.A. from the University of California, Los Angeles.
Gress' career began as an editor and reporter for the Hartford Courant, Connecticut's largest newspaper. She then worked for CBS Radio Network as an editor and producer from 1974 to 1975, before completing her master's degree. Gress then worked from 1978 to 1996 as a reporter and editor for the Los Angeles Times, a period during which the Times won eleven Pulitzer Prizes.
Gress joined IU as the director of information resources in 1996. In 1998, she was appointed secretary of the IU Board of Trustees, and was shortly thereafter appointed to the post of director of ceremonies and commencement. She retired from IU in 2014, but returned briefly in 2017 to serve as the interim project manager in the Office of Marketing and Publicity at the IU Jacobs School of Music.
Gress has been involved with numerous campus and community organizations. She is a member of the IU Alumni Association, the IU Friends of Music, the United Way of Monroe County, the Hoosier Salon, and the Metropolitan Opera Guild, the St. Paul Catholic Center advisory council, the Catholic Charities of Bloomington advisory council and interim director in 2015. In recognition of her contributions to IU, the IU Foundation awarded Gress the 2008 President's Medallion, and she also received the E. Ross Bartley Award (2014).
Gress received the IU Bicentennial Medal in September 2019 in recognition of her distinguished service as secretary of the IU Board of Trustees.